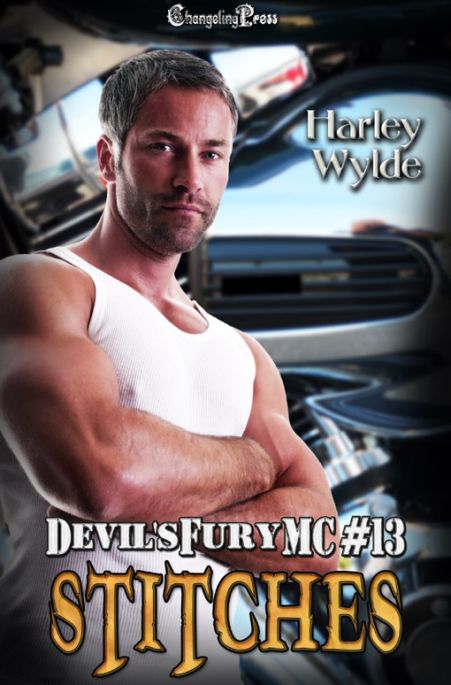 Devil's Fury MC, Book 13
A Dixie Reapers Bad Boys Romance
Motorcycle Club, Age Gap, Dark romance, Action & Suspense
Date Published: September 22
Publisher: Changeling Press LLC
Marci -- My sister and her boyfriend had been my entire world, until I lost them both. Laura died, and Stitches walked away. I've lived in hell for the past seven years thanks to a brother who should have protected me. Instead, he used me to further his career, not caring whether I lived or died. Now Stitches is back, right in front of me. I always thought of him as an older brother, so why does he suddenly seem so sexy? What would Laura think if she knew I was falling for the man she loved?
Stitches – When I lost my woman and daughter, I walked away. I should have taken her little sister, Marci, with me. Instead I trusted her family. My mistake. If I'd checked on Marci, kept in touch, I'd have known she was in trouble. Now she's back in my life, battered and broken. The men who dared to hurt her will pay with their lives. Especially her older brother. I failed her before, but this time I'll get vengeance for all she's suffered. It never occurred to me I'd end up falling for her along the way. I only hope if Laura is watching over us, she'd approve, because I don't think I can hold myself back.
WARNING: Guaranteed happily ever after, no cliffhanger, no cheating. Recommended for readers 18+ due to adult situations, language, and violence.
EXCERPT
Stitches
Present Day
I couldn't believe Ram had returned to the Devil's Fury. Although, the biggest surprise had been the women and teens he'd brought with him. Each had suffered horribly, and I'd given them some space the first week. Badger had agreed they would be too skittish for me to attempt giving them an exam. It wasn't the first time I'd used my medical knowledge for the sake of my brothers or their women. Now I was on the last woman, and nothing could have prepared me to come face-to-face with Marci again. Now all grown up and looking more haunted than any woman should. It had been ten years since I'd last seen her, which meant she was in her early twenties now. My stomach twisted. How the hell had she gotten mixed up in all this? And why hadn't I known? I had so many questions.
She wouldn't look at me. Couldn't say I blamed her. If it weren't for me knocking up her sister, Laura might have still been alive. I might not have liked their brother, Richard, but I'd thought he would at least make sure Marci had a decent life. I hadn't seen a single poster around town about her being missing. Not a peep on the local news or radio. How long ago had she been kidnapped?
"Marci, do you remember me?" I asked, keeping my voice low and even, not wanting to startle her.
She still wouldn't acknowledge me. She rocked slightly as she stared at the floor. I wasn't sure if she needed a medical exam right now. A psychiatrist would probably be better for her. I knew some of the women in the club had spoken to one before. And Ram might not have a degree or license but did well with that sort of thing. Would he be able to coax something from her? Even a few words would help. I didn't know if she was in pain, hungry, or what the hell she needed right now.
Why the fuck did they have me walk in here while Marci was alone? The fact a man came into the apartment probably scared the shit out of her. Then again, if the others were like her, I doubted they'd have been much comfort right now. I wished one of the old ladies had joined me for this. But if they had, and Marci acknowledged me, then I'd have to explain how I knew her. No one knew about Laura or our daughter, Rose, and I intended to keep it that way if at all possible. Some things weren't meant to be shared, and that was a pain that was mine alone to bear.
"The last time I saw you, you were starting high school. Even though we live in a small town, not once have I run into you or your brother, Richard." Marci flinched when I said her brother's name. My nape prickled and I inched a little closer. Did that asshole Richard have something to do with her being here now? Was he to blame for what happened to Marci? If so, I'd bury the fucker! "You know, I couldn't face you when Laura died. I called Richard…"
She flinched again and whimpered. Her rocking increased. I didn't need a verbal response from her. Her actions alone spoke volumes. I'd have to ask Outlaw to find him for me, which meant I'd have to tell at least one person I knew Marci and how we were connected. I took the risk of moving even closer to her and went down on one knee in front of her. She froze, her eyes slowly focusing on me. Once she seemed to come back to herself a little, her eyes filled with tears, and she flung herself into my arms.
"I've got you, Marci. Everything will be fine now." I rubbed her back and held her tight, letting her soak my cut and tee with her tears. When her cries quieted, I stood and lifted her into my arms. I hesitated to take her to the bedroom she'd been using. I felt like I needed to get her out of the apartment. The more she cried, the more urgent it felt to get her somewhere I could make her feel safe. Clearly, this wasn't it.
Instead, I found myself carrying her outside and walking to my house. Thank goodness I didn't live at the back of the compound. I managed to let myself in without setting her down or dropping her, then took her straight to the living room. Easing her down onto the couch, I smoothed her hair back from her face.
"This is my house. You'll be safe here, all right?"
She gave me a slight nod, then curled into the corner of the couch. I went back to close and lock the door. As I twisted the bolt into place, I stared at it. In all the years I'd lived here, not once had I locked my door. For the first time in ten years, I had someone to protect, and this time I'd do a better job of it.
Marci was no longer the teenager who'd brightly smiled at me and asked a million questions about what it was like to be part of a motorcycle club. She'd grown into a beautiful woman. The thought of her being abused made me grind my teeth. She should have had a loving home, a ton of friends, and been away at college right now. Instead, she'd been tossed into hell, most likely by her brother.
When I got back to the living room, she'd closed her eyes but wasn't quite asleep. She peeked at me, letting me know she was aware of her surroundings. It was an improvement over how I'd found her.
"How old are you now, Marci? Twenty-two? Twenty-three?" I asked.
"I don't know. I lost track of time."
I tried to hold in my anger over the situation so I wouldn't scare her. For her to make such a statement meant she'd been with Vega's men for a while. Or possibly someone before them.
"Then can you tell me what happened? Last I heard, your brother was going to take you in until you were old enough to make it on your own." Her lower lip trembled, and she picked at her fingernails. I reached over to place my hand over hers. "No one here will hurt you, Marci. I'm not going to let anything bad happen to you."
Again, I silently added, because I damn sure felt responsible right now. If I'd kept in touch or checked up on her, would this have happened?
About the Author
Harley Wylde is an accomplished author known for her captivating MC Romances. With an unwavering commitment to sensual storytelling, Wylde immerses her readers in an exciting world of fierce men and irresistible women. Her works exude passion, danger, and gritty realism, while still managing to end on a satisfying note each time.
When not crafting her tales, Wylde spends her time brainstorming new plotlines, indulging in a hot cup of Starbucks, or delving into a good book. She has a particular affinity for supernatural horror literature and movies. Visit Wylde's website to learn more about her works and upcoming events, and don't forget to sign up for her newsletter to receive exclusive discounts and other exciting perks.
Author on Instagram, Facebook, and TikTok: @harleywylde
Publisher on Facebook, Instagram, TikTok, and X: @changelingpress